Saturday, 9th Dec 2023
WINTERGARDEN  11am – 3 pm
at Hoxton Trust Community Garden
156 Hoxton Street, N1 6SH

Get in the Seasonal East End Spirit with the Hoxton Trust Community Garden and the Bob Hub.  Carols and seasonal melodies from amazing singer-songwriter and producer Angenita Blackwood.  There will be Seasonal and sustainable crafts, Children's activities, mulled wine, mince pies and a whole bunch of fun.  Do some Christmas shopping and enjoy the vibe along one of the oldest in Hackney established in 1687.  Saturday 9th December 11 am – 3 pm
Thursday, 22nd June 2023


WINDRUSH 75
at Hoxton Trust Community Garden
156 Hoxton Street, N1 6SH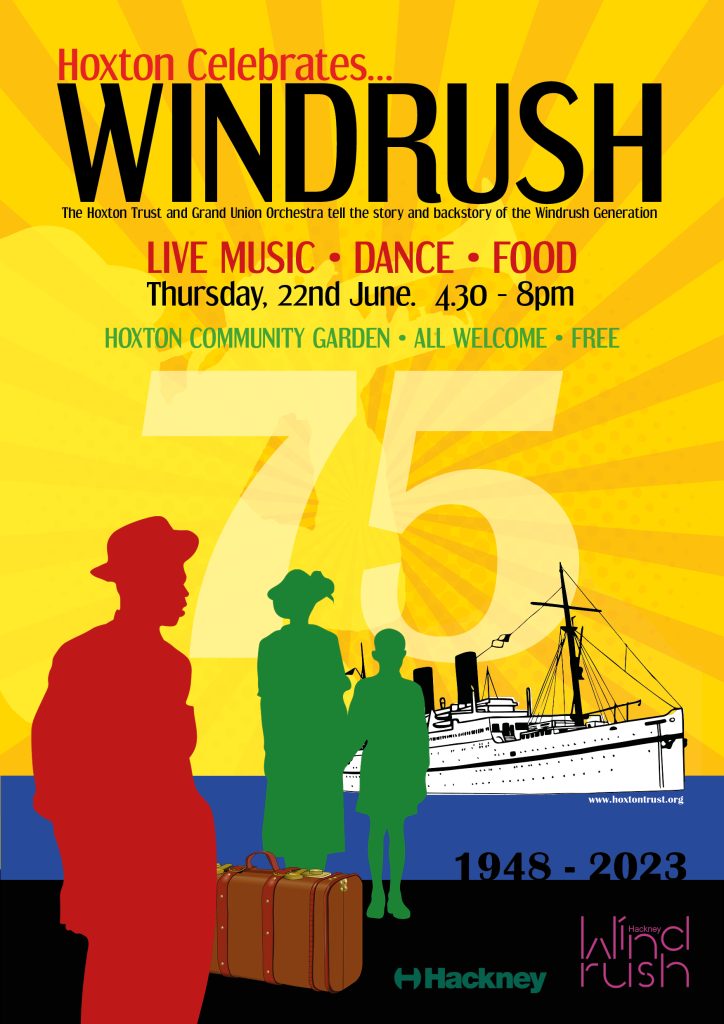 Come and Celebrate Windrush 75 in Hoxton. Follow the story and backstory of the windrush generation within the garden, and through the music of the amazing eclectic Grand Union Orchestra.  Have a dance and enjoy some authentic Caribbean Food in the beautiful setting of Hoxton Community Garden this midsummer.
'Hoxton Celebrates Windrush 75' is funded by Hackney Council's Windrush Microgrant Scheme.
1st Nov 2022 – Sept 2023


OUR FOOD GARDEN
at Hoxton Trust Community Garden
156 Hoxton Street, N1 6SH
Our Food Garden is an exciting new health and wellbeing project run by The Hoxton Trust, for and with the local community. Together we are going to create an Organic Gardening Club where people grow their own food, learn about organic gardening and composting and meet new people along the way. Our Food Garden will help local people improve their mental health and wellbeing so together, we can build a better, stronger Hoxton and Shoreditch. ….to read more
Week of April 4


TEXTILE AND WEAVING WEEK
at Hoxton Trust Community Garden
156 Hoxton Street, N1 6SH
Craving fresh air, blooming gardens and sunshine? Come along for a free programme of workshops with Phoebe Hudson and Mattie O'Callaghan in the Community Garden celebrating the start of Spring. Get involved in weaving textiles and repainting the stage floor! Phoebe will be creating a live installation hung between trees for you to enjoy on your lunch break or walk. On Thursday 7 April 14:00-16:00, we will be having a celebration for all with refreshments and an open mic if you like to sing, play or dance or just come for a listen!
There will be workshops running throughout the day so pop in anytime and there will always be something to get involved with no matter your experience.
May to September


HOLIDAYS IN HOXTON
at Hoxton Trust Community Garden
156 Hoxton Street, N1 6SH
Thanks to funding from National Lottery, we will be opening the garden to the general public every weekend from May to September. Various events and activities will be organised with the aim of bringing the community back together post-pandemic and providing fun and games for those who can't afford to get away on holiday. These include:
Bouncy castle
Face painting
Live music with musicians from Hoxton Hall
Performances from The Grand Union Orchestra
International Food Festival
July 7-10, performances of Shakespeare's Twelfth Night from the East London Shakespeare Festival
To be rearranged


CAGE TROLLEY PROJECT
at The Yard behind
156 Hoxton Street, N1 6SH
We are creating a seasonal moving garden from a recycled supermarket cage trolley. The trolley will be filled with containers of various sizes containing our home made compost. Out of these we'll grow a melange of flowers and climbers, food and foliage. This will create a living mobile plant/art installation for Hoxton Street.
This is totally free and promises to be a fun and fruitful experience for both those who create and those who just enjoy. If you would like to get involved in this creative endeavour please contact Stephen.
Alternatively, just drop by the garden on the days Stephen works – Monday and Tuesday – and talk to him directly.